---
1/8 Rival MT8 4WD Monster Truck RTR
The RIVAL MT8 is a powerful, purposeful, and built-to-last 1:8 scale monster truck capable of running on a single 6S or 4S LiPo battery. Its strength lies at the very core of this beast with its high-performance 2100kv high-torque Reedy brushless motor, 4mm aluminum main chassis with rigid aluminum center chassis supports, and a four-position adjustable wheelie bar. Power and durability are things you will never lack with this RIVAL MT8.
Features


Three heavy-duty, sealed, fluid-filled gear differentials


Rigid aluminum center chassis supports


Aluminum suspension braces


Four-position adjustable wheelie bar with LED taillights


All-metal gear drivetrain





Rugged steel turnbuckles


Durable, impact-absorbing front bumper with LED headlights


High-torque digital servo


Metal servo horn


Single 6S or 4S ready 150A ESC


2100kv high torque brushless motor


Overview
The RIVAL MT8 features a long-travel independent suspension that is managed by four 16mm big bore threaded-aluminum-bodied, fluid-filled, adjustable, coil-over shocks, giving the RIVAL MT8 the ability to roll over just about anything in its path. Giant aggressive monster truck tires provide maximum traction, letting the RIVAL MT8 claw through the toughest terrain with ease. The 4WD consists of a fully sealed, all-metal geared drivetrain that transfers the power through durable CVA drive shafts to both ends of the truck.
Whether you're smokin' tires on the asphalt, rippin' through the lawn or tearin' up a dirt field, Team Associated has you covered with the all-new RIVAL MT8!

Video Overview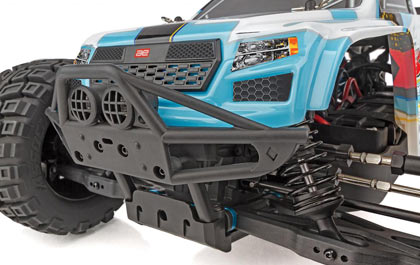 Front Bumper with LED Headlights
Durable, impact-absorbing front bumper with LED headlights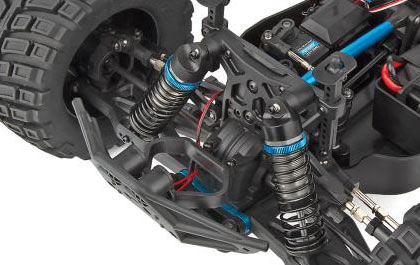 Big Bore Shocks
16mm big bore threaded aluminum shock bodies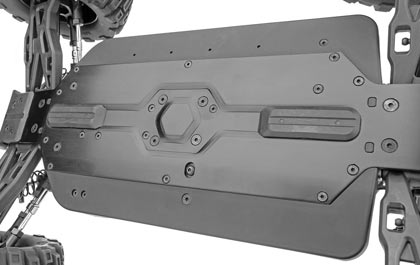 Main Chassis
4mm thick main chassis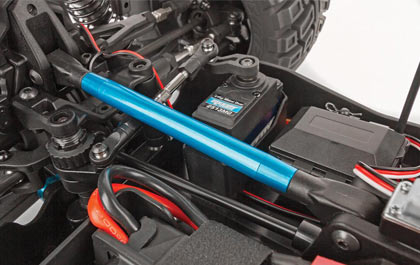 Chassis Braces
Aluminum chassis braces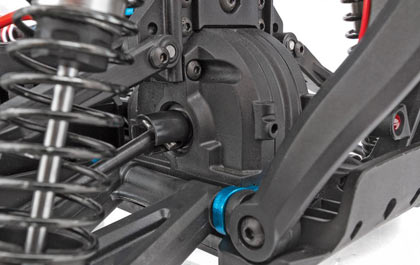 CVA Axles
Heavy duty, hardened steel CVA Axles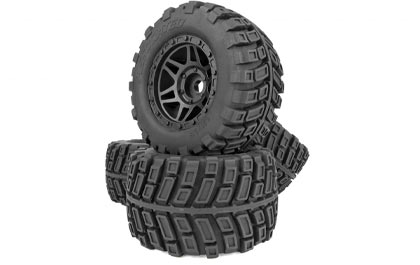 Tires & Wheels
17mm hex wheels wrapped with high traction all-terrain tires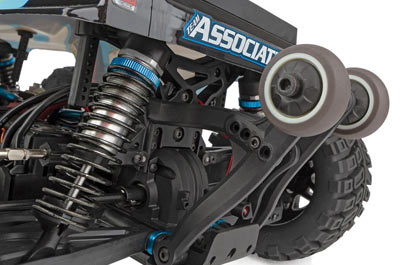 Wheelie Bar
Four position adjustable wheelie bar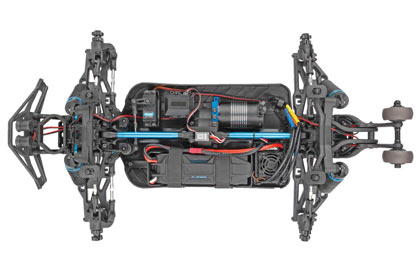 Electronics
High-torque digital servo, single 6S or 4S ready 150A ESC, and a 2100kv high torque brushless motor